At Sentinel Boats, creating durable products for harsh environments is in our DNA.
Our origins in the harsh Southern Ocean make us different. In tough, high-energy environments, failure is simply not an option: products must withstand the elements to return crews home safely every time.
Sentinel Boats produces incredibly durable, stable and safe high-density polyethylene (HDPE) work boats and rapid response vessels for the emergency services, defence and security industries.
Our long history in the commercial marine sector established our reputation as a trusted purveyor of virtually indestructible workboats. Our first boat still in operation today, 30 years after hitting the water. We have since evolved into the rapid response sector in partnership with One2three naval architects and created our flagship vessel The Sentinel 1100 in 2022– the pinnacle of our expertise in high-performance, high-safety, tactical vessels. Our Sentinel family of seaboats now comprises of six vessels with an unrivalled commitment to safety, stealth and longevity for situations that command nothing less.
We utilise our significant on-water experience to inform our design and manufacturing process to ensure our vessels will always exceed the needs and expectations of our customers.
Proudly Tasmanian-owned, Sentinel Boats is equipped with the leading industry knowledge and capability to ensure our boats return crews home safely, every time.
There is nothing like first hand experience, honed by the toughest environments on the planet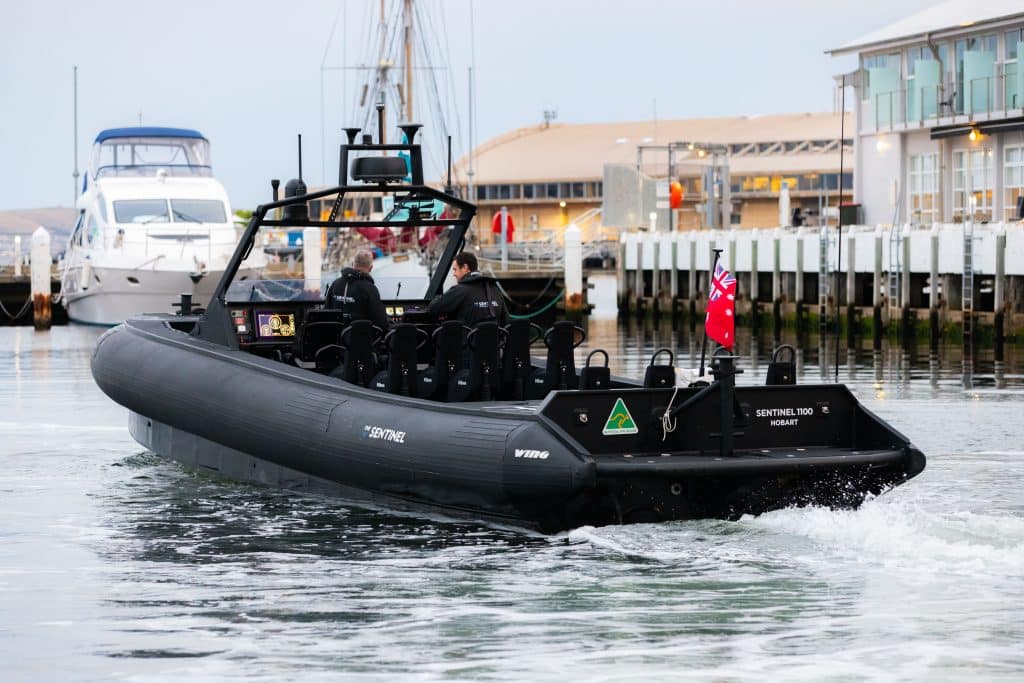 Team Sentinel
Sentinel Boats assembled a team in 2022 of industry experts to inform the delivery of the world's most capable tactical sea boat fleet. The pooling of talent, resources and expertise has ensured Sentinel Boats delivers vessels that surpasses all expectations in terms of performance, reliability, and tactical capabilities.
The Sentinel Team includes a network of Australia's most respected naval professionals and suppliers – naval architects One2three, integration specialists Bellinger Systems and defence acquisition experts Systematic.

Defence Capability Advisory Committee
Sentinel Boats has a Defence Capability Advisory Committee to provide critical support and assurance in the design of The Sentinel Family of Sea Boats. With over 100 years' combined experience in Defence and public security, the Committee members are integral in the evolution of our proven vessels to mission-ready, reliable, integrated maritime systems.
Our Committee Members
Chris Oldfield, Sentinel Boats
Stephen McCullum, Sentinel Boats
Commander (Rtd.) Ian Parker CSM
Rear Admiral (Rtd.) Steve Gilmore AM CSC
Rear Admiral (Rtd.) Allan du Toit AM
Former Tasmanian Police Inspector Lee Renshaw
Our Management Team
George McGuire, Chief Executive Officer
George is a highly experienced defence professional with extensive experience leading high-performing teams in both the Royal Australian Navy and private sector.
George had a 28-year career in the RAN in senior leadership roles, including serving as commanding officer of two warships and extensive operational and major project experience. For the past decade he has worked in the defence technology and engineering sector, most recently as General Manager, Operations & Delivery and then Business Development for the Australian arm of QinetiQ, a UK based multi-national Defence and Security business.
He joins Sentinel Boats in 2023, ready to capitalise on growing market demand, particularly in the defence and law enforcement sectors.
Chris Oldfield, Executive Director
Chris is a prominent Tasmanian business leader with exemplary experience, reputation and management skills. Chris' career is hallmarked by achievement as a senior industry manager and as a company director across private enterprise and government agencies at both national and state levels.
In 2015, his standing in the fields of Australian business and trade was recognised with his appointment as Australian Consul-General, San Francisco USA, and as Senior Trade and Investment Commissioner – Austrade.
Stephen McCullum, General Manager
Stephen McCullum is an acknowledged leader in the maritime industry with more than 40 years of experience. Stephen's extensive knowledge spans ship construction, commissioning, modifications, and maintenance – including with international ferry builder, Incat. He is part of a robust network within the industry and has represented major organisations on national and international platforms. As General Manager, Stephen's expertise drives excellence in boat building. As an award-winning ocean sailor, Stephen is very much at home on the sea.
Michael Edwards, Production Manager
Michael (or Mick, as he is best known) is a craftsman and a perfectionist with a passion for boat building and a methodical attention to detail and quality workmanship, which makes him a key asset to Sentinel Boats. Mick is a highly qualified specialist – a boilermaker/welder; shipwright; DNV-qualified welder and coded pipe welder. Mick has exceptional problem solving and trouble shooting skills as well as practical expertise in the development, implementation, and installation of procedures and practices.
Dana Cleary, Program Manager
Dana's experience in defence and government infrastructure procurement is of value to Sentinel Boats, especially in understanding and meeting the requirements and expectations of both public and private sector clients. Dana has a record for providing operational management and project skills to companies that required expertise in the execution of government military project, especially short-term, high-pressure projects that required diplomacy and accuracy in achieving successful outcomes. She is a leader who is prepared to make the necessary decisions to resolve intricate problems in the pursuit of business targets.
Bradley George, Project Engineer Marine
Brad is a mechatronics engineers with exceptional computer, technical and problem-solving skills. His diverse technical background working for organisations such as TasNetworks, the Tasmanian Audit Office and the Royal Hobart Hospital, has provided Brad with high-end experience in electrical distribution, lighting, design and estimation; research and development in engineering software; and the application of Australian Standards in electrical engineering.
Jason Cummings, Project Manager Marine
Jason brings to Sentinel Boats a wealth of organisational and managerial skills as well as rich life experience accumulated over a diverse career stretching from Scotland to Australia. His collaborative and strength-based management style combined with solid communication skills and a clear understanding of how to build working relationships with both staff and stakeholders has resulted in Sentinel Boats experiencing controlled growth, high quality assurance and client satisfaction.