Stability. Seakeeping. Endurance.
The Aquatruck is a division of the Sentinel Boats and is the vessel of choice for industries requiring commercial longevity.
Proven in the harsh Southern Ocean and hand built in Tasmania, Aquatruck vessels are made from High Density Polyethylene (HDPE), the toughest wearing watercraft material with four times the lifespan of any other. The Aquatruck is built to withstand the most ferocious waters while still offering a stable, reliable ride and lowered operating risk, maintenance cost and downtime.
Aquatruck workboats have evolved into a proven solution for various oceanic industries across Australia and are now found further abroad in Canada and Norway.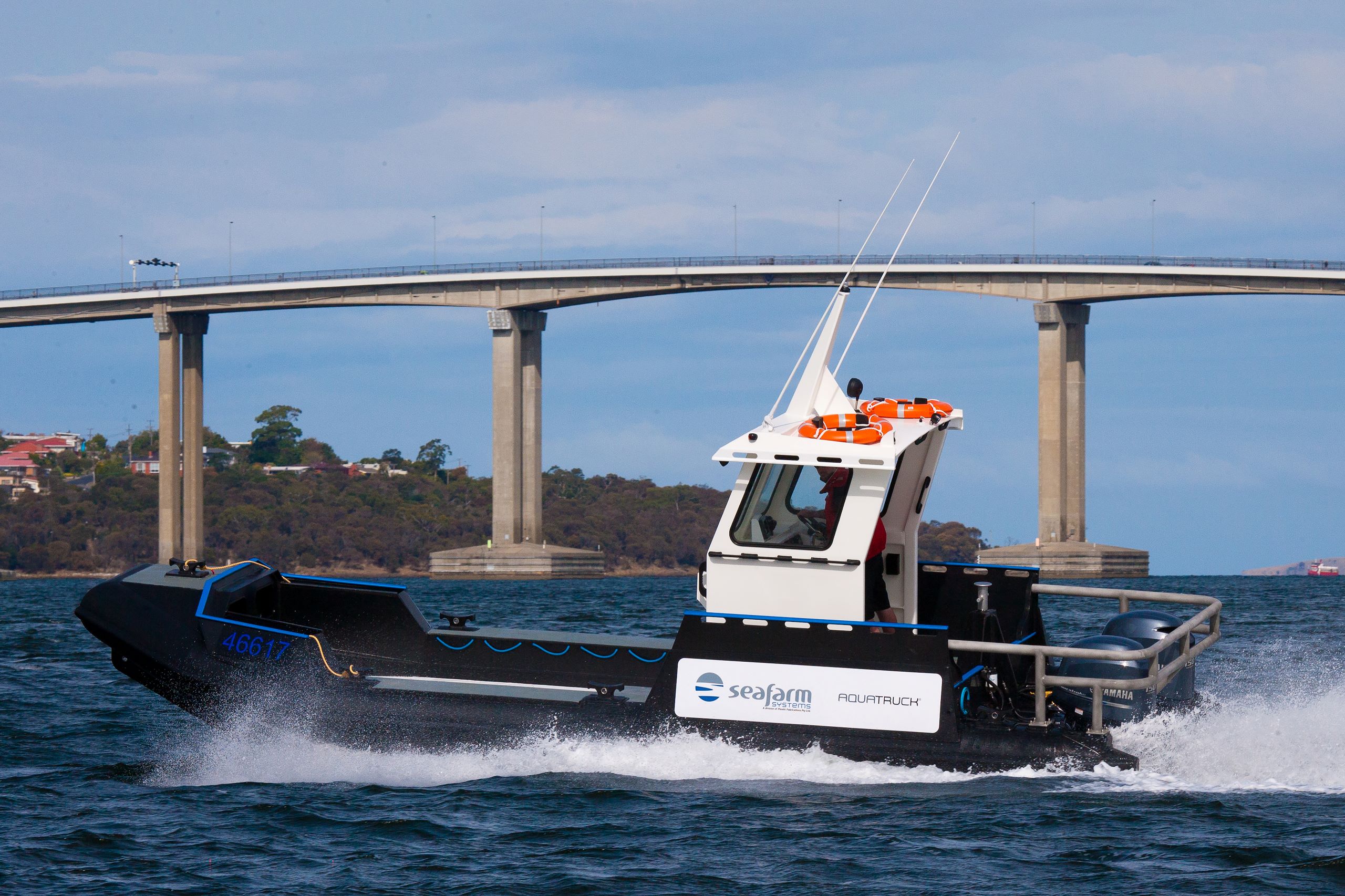 KEY FEATURES
Relentless workboats, meticulously crafted to excel even in the harshest conditions. 
Sentinel Boats has extensive experience in manufacturing workboats for the aquaculture, fisheries, parks and public safety industries across Australia. Our range can be customised to suit industry needs, without compromising safety or rideability. The durability of HDPE can withstand the ferocity of hard beaching, while being a stable platform for use as support craft or in times of desperation in search and rescue missions.
The Aquatruck range is handmade in Australia, with a reputation for quality and strength that has been reinforced over three decades in service.
Expand all
Close all
Stability

The use of HDPE gives the Aquatruck a smoother ride when compared to other common boat-building materials, resulting in reduced fatigue, vibration and exertion impacts on crews. The Aquatruck is also highly configurable, ensuring it can meet the needs of a variety of industries in all kinds of tough environments.

Seakeeping

The vibration-absorbing hull of the Aquatruck ensures all passengers and sensitive equipment onboard are not subject to unnecessary loads and forces. The design of our HDPE hull minimizes risk of rollovers and injuries to ensure personnel and equipment are always kept safe.

Endurance

The nature of HDPE allows it to be hard beached time and time again, with close to no downtime for maintenance. Our first boat is still operating 30 years later, a testament to the meticulous construction of a boat designed to perform, and perform again.

Vigilant Safety System (VSS)

The Sentinel fleet incorporates the Vigilant Safety System – critical design and the operation components that set the benchmark in safety and performance.

Design – Systemic design delivers exceptional stability and seakeeping capability.
Material excellence – Utilising next generation material HDPE.
Construction – Sentinel Boats quality assured craftsmanship, refined over 30 years of continuous improvement.
Invigilation – Superior monitoring, observation, and cloud-based capabilities.