Survivability. Safety. Performance.
A fully integrated maritime system designed to enhance mission capability for defence and security organisations.
The Sentinel is Sentinel Boats' flagship tactical watercraft – the culmination of our extensive experience building vessels that excel in the most hostile environments, backed by the unmatched expertise of Australian One2three Naval Architects.
The Sentinel range are the world's only defence vessels manufactured from High Density Polyethylene (HDPE), offering a step change in performance, whole of life cost and operational availability across adaptable mission-specific configurations.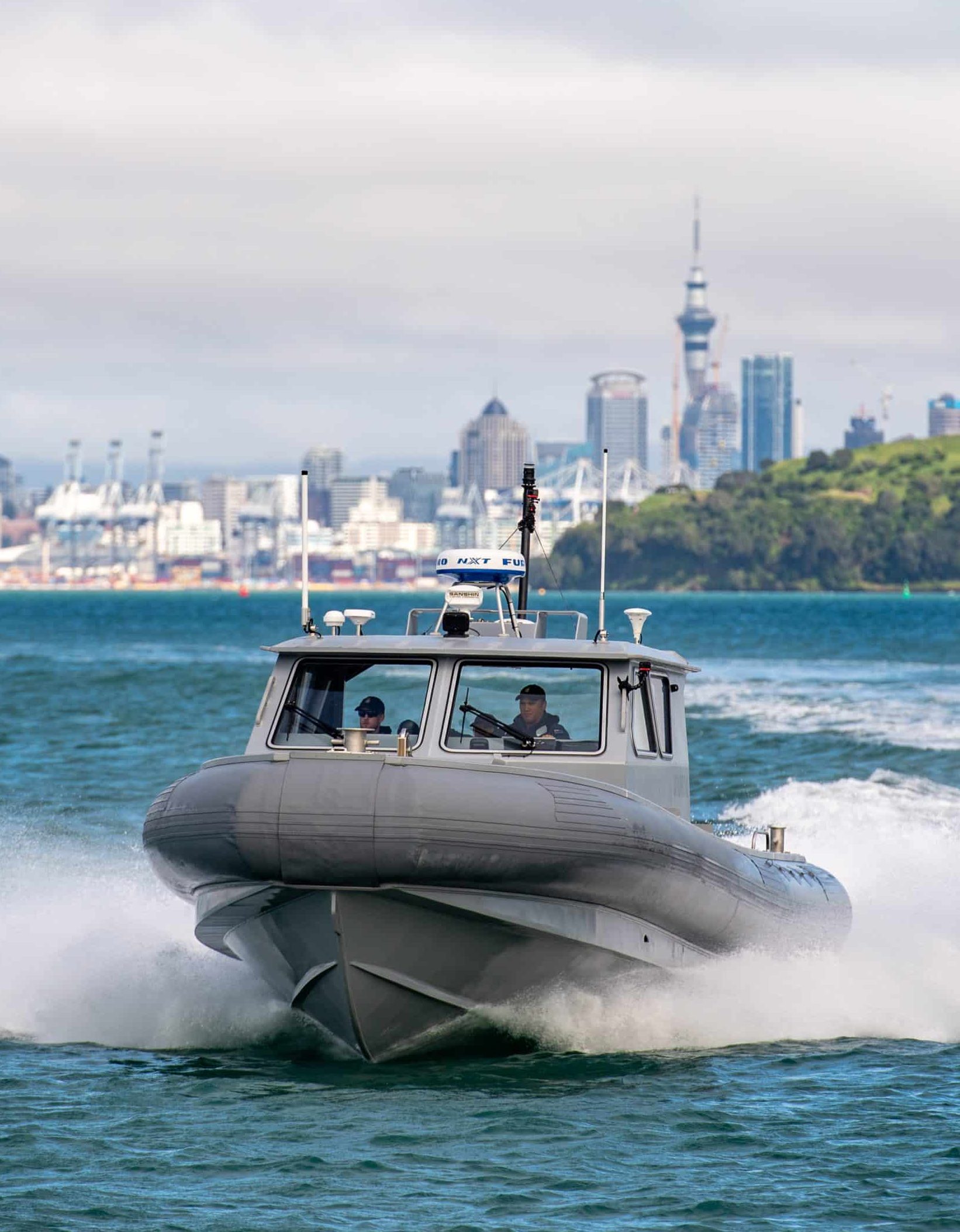 KEY FEATURES
Where failure is simply not an option, The Sentinel excels in high-stake situations to serve and protect and return service personnel home safely.
The Sentinel range offers unparalleled performance, safety and survivability for interdiction boarding, pursuit, tactical assault and first response applications.
Sentinel Boats' Defence Capability Advisory Committee includes over 100 years' combined experience in the defence and public security environments, underpinning the evolution of our proven platforms to mission-ready, reliable and integrated maritime systems.
The Sentinel is the next generation in world class tactical watercraft.
Expand all
Close all
Survivability

The Sentinel has a signature low profile and centre of gravity, making for an inherently smooth ride and maximised stealth. Cutting edge outboard or jet propulsion and dynamic positioning systems work in tandem to ensure sure maximum manoeuvrability at low speed with precision and power.

Safety

The Sentinel is manufactured from High Density Polyethylene (HDPE), offering superior durability and reliability in the face of sustained force, optimised for repeated airdrops and hard beaching.

HDPE's absorption properties dampen noise, vibration and personnel fatigue, while its high stability and enhanced handling characteristics offer a more stable experience for the crew.

Performance

The Sentinel fleet can be seamlessly integrated into existing defence fleets and C5ISR systems for efficient networking and no downtime. Each boat can be equipped with autonomous capabilities, adding to their operational flexibility for pursuit, assault or first response missions.

Vigilant Safety System (VSS)

The Sentinel fleet incorporates the Vigilant Safety System – critical design and operation components that set the benchmark in safety and performance.

Design – Systemic design delivers exceptional stability and seakeeping capability.
Material excellence – Utilising next generation material HDPE.
Construction – Sentinel Boats quality assured craftsmanship, refined over 25 years of continuous improvement.
Invigilation – Superior monitoring, observation, and cloud-based capabilities.